Steve Richards posted a nice piece on working at home…and how to make it productive and enjoyable. He makes some"not so commonly pointed out" work-at-home advisories. My favorite is to meet up with colleagues whenever you can…like going out for lunch.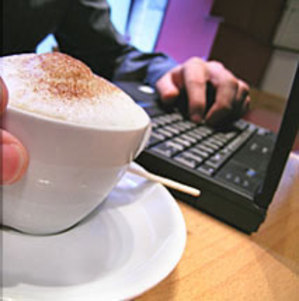 One of the most rewarding things I've discovered is that there's an army of "virtual office" folks at local coffee shops and eating establishments. If you're interested in making some connections, first find out where wi-fi is free. Then, of course look for laptops. Here's a general guideline: (varies of course and these are just my opinions).
A Mac: The person is a student, marketing/advertising person, graphic artist, or is between gigs.
A Dell: This person is either self-employed or works for a small company since Dell has great prices and great financing.
IBM Thinkpad: This person is a sales person or other field rep for a larger corporation. Thinkpads are standard issue by the corporate IT folks.
Sony, HP, Toshiba, et al: This group is an amalgam of the above 3. These laptops are typically cool but not as adopted by the mainstream so you never know who you're going to meet if they have one of these.
I've met bloggers, business owners, medical students, venture capitalists, graphic artists, writers, professional speakers, consultants, sales reps, moms, dads, families, etc..by working out of my local Panera Bread.
It will only take about a month of making introductions before you start to have an "office away from the home office" group to have a coffee or share some lunch with.
Comments
comments