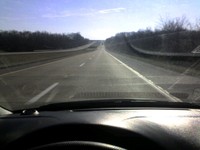 We're in Harpersville, AL now, the result of a 16 hour Honda Odyssey minivan road trip with the family. Our kids (2 and 4) have always loved long car rides and they really do well. We spent one night in a hotel with the four of us and the two 60+ lbs dogs…and we had a blast!
I really hope these early trips set the stage for family road trips around the United States from our central home base in Iowa. These trips bring back so many memories of my Griswald'ish family trips including the 1984 circumnavigation of the United States by my mom/dad in a Toyota pick up truck. Our truck had a carpet kit in the bed with homemade storage boxes and cabinets. There was also a boot between the cab and the bed! Yes, my parents put me in the bed of a truck for 10k miles…and I loved it! Of course there were no seat belts or even seats for that matter. "Don't let the suitcases crush you boy." Back then, these things seemed to matter less. I'm not exactly sure why.
On that trip, we ate at the Big Texan Steak House in Amarillo, toured the White House and the Capitol, saw Mt. Rushmore, NYC, The Great Wall Drug Store in SD, and a million other sites guided faithfully by AAA printed "Triptik" maps.
I think we'll probably graduate to a motor home in the next few years, and I'll still require seat belts, etc. but the idea is still the same. A family that spends time together trippin' around the US builds bonds that last a lifetime. The kids may complain a bit and inevitably your wife will berate you for not stopping to use the restroom when you had the chance…but in the end, you'll cherish these trips and memories they forge. Maybe your thirty something kids will write about them someday too.
Comments
comments