Jason Kottke posted a piece on the changing economic forces driving reallocation of corn production. He points out much of the corn in Mexico is brought in from the US..since it's become too expensive to grow it. Thank American farming subsidies for that but on to the next issue. He confronts the looming bidding war between "Americans who want to fill their gas tanks and Mexicans who want to
feed their children," and states that, "Odds are the tanks stay fuller than the stomachs." Agreed. But this is nay a temporary realignment in my opinion. Corn prices and the massive amount of reallocation farmers are undertaking now (sacrificing soy or other crops to grow the golden money printing crop) will not sustain.
Scientists know that corn based ethanol production is cheap, quick, and easy…but terribly inefficient. The transition to cellulosic ethanol production (effectively the same booze made from just about any organic matter) must take over. That way, we can develop more genetic hybrid crops that grow tall and dense…rather than trying to usurp every bit of arable land to grow a very inefficient crop.

Photo by Bob Elbert/Iowa State University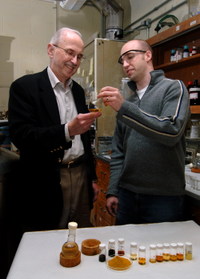 Iowa State University, among others, is working hard to develop enzymes and other chemical compounds that will facilitate the rapid breakdown of organic matter into basic sugars. On Tuesday, an
article came out discussing a 40 year old breakthrough made at ISU that was just "dug up" and is being researched full steam now. Scientists figured out back then how to cook up some compounds that, "break down the tough cellulose that forms the structure of a plant's
cell walls. Breaking down the cellulose can release the simple sugars
that are fermented into ethanol. Making that happen could add some
value to Iowa crops or the fibrous co-products of ethanol production."
The bottom line here is that we can genetically engineer the heck out of some grass or ultra dense, super high growing plant instead of using corn. This will happen, it must. For now, farmers are just happy to be getting insanely high rates for their corn. The ethanol plants are virtually printing money by making alcohol. And, the people of Midwest are trying understand what capturing this moment and not letting go could mean to the region. It's the heartland's chance to shine.
It's not nearly as glamorous as Silicon Valley or the Tech Coast…but our own little Ethanol Alley, and if the politicians don't mess it up, we'll be the epicenter of energy independence. Be warned Mr. Chavez…we're armed with corn cobs and grain alcohol…and we mean business. To the hungry citizens of Mexico, hold on. It's only a matter of time before we'll replenish our supply.
Comments
comments