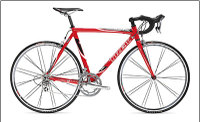 The Trek Madone was put through some very mild testing yesterday. It felt VERY good and I can't believe how little energy it takes to put in say 12 relatively flat miles (even with a bit of head wind). There were times that I was actually coasting faster than my hybrid bound buddy was peddling. Ah that brought back memories of RAGBRAI last year (Gerard B. heard snickering across the blogosphere this very moment).
Some adjustments are needed as the bike was put together post-UPS shipping by ME. It's a bit off balance since all of the front end pieces are probably a millimeter or two left or right of center…but otherwise, unreal.
I didn't want to stress to hard, so we road to downtown Des Moines and parked it at the Hessen Haus, a killer German restaurant and pub. A few Bitburgers later, we were home bound in the beautiful Midwest Spring weather.
Comments
comments