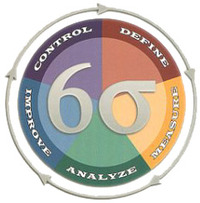 The business world felt a mild tremor a few days ago as Bob Nardelli, the controversially well paid CEO of Home Depot resigned from his post. It was ironic that only days before, I received my January 8 Forbes magazine that contained an article with Nardelli's thoughts on how he was going to grow the company during the current building (or at least selling) slump. How quickly things change. Don't feel too bad for him. His severance package is over $200 million. Money doesn't buy happiness…but it sure does let you deal with your problems in style. Remember that Nardelli was one of the top guys under consideration for the top job at GE when Jack Welch decided to leave…and he was snubbed.
A very nice article in the WSJ yesterday by Karen Richardson really dove into what 6 Six Sigma has meant for some top companies in the U.S including Home Depot…and it's not all knock out Judo chops.

"Six Sigma is not the end all be all," said Robert Ferris, a spokesman
for Honeywell. "It is simply a set of process tools. We would never
suggest that a company's performance is solely linked to the adoption
of these tools." Good plan Mr. Ferris.
Consider the following facts about stock prices in a post 6 Sigma deployment world:
Since announcing the adoption of Six Sigma on July 1,
2001, Home Depot shares are down 8.3% compared with a 16% rise in the
S&P 500 over the same period. The stock rose more than 2% yesterday
on the New York Stock Exchange, to $41.07, after Mr. Nardelli's
resignation.
Honeywell shares are down 7.2% since its Six Sigma
announcement in early January 2000, compared with a 3.6% fall in the
S&P 500. Shares of 3M are off about 1% since late December 2003
versus the S&P 500's 29% climb. GE shares rose sharply in the
1990s, but they're down 16% since July 2000, when the company adopted
Six Sigma, compared with the 2.6% fall in the S&P 500.
There are companies who've done better than the S&P using 6 Sigma including Caterpillar Inc., Federated Department Stores Inc., Starwood Hotels & Resorts Worldwide Inc., Target Corp. and Whirlpool Corp.
But what's the big takeaway here…
Nardelli imposed 6 Sigma at Home Depot to bring order to its somewhat chaotic "cowboy culture". He also cut staff and ran the organization more militarily…in a very customer intensive retail environment. This type of implementation is destined for failure because it denies the culture and context of the deployment.
6 Sigma is NOT just for manufacturing...but it must be molded and shaped a bit in a more human and transactional environment. I was trained as a Black Belt in 2005 and found that about 10% of the training was spent on change management, breaking down cultural impediments to improvement, and the proper tools for use in a non-manufacturing environment. Additionally, I've found that 6 Sigma can create information silos and sometimes encourage band-aide solutions to bigger problems. That's not a slight on 6 Sigma, it's simply fact in my interactions.
6 Sigma takes on big issues like "My customers are dissatisfied" and breaks that down into manageable projects…limiting the scope so that meaningful data can be gathered, analyzed, and hopefully improved upon. But, when scope is limited often times project teams can't see the forest through the trees.
I've done a lot of work with one of the companies and it's subsidiaries that's beaten the S&P since deploying 6 Sigma. What I've seen in about 80% of cases is that narrowed scope on certain issues caused solutions to be implemented to the detriment of the "big picture". At the end of the day there was improvement. But will that improvement earn out over the long term? The big picture check and balance is often relegated to the top executives at the company. Their goal is to, "Oversee the entire value chain and project flow and put the pieces together so that small fixes don't cloud the big picture". I've seen that work about 20% of the time.
Comments
comments