I guess my passion for NASCAR is like others passion for football or baseball Here in Iowa, it's been tough finding rabid race fans. It's NOT difficult finding Iowa vs. Iowa State fans. Get a Hawkeye and Cyclone fan in the same room and sparks fly for sure.
This past Sunday, the driver that I've supported and picked as "my driver", Jimmie Johnson of the Lowe's 48 team, won the NASCAR Nextel Cup Championship to end the racing season. This was a glorious moment that I'm still buzzed about. I've followed JJ since his start in NEXTEL cup…and was there to see his first win at California Speedway back in 2002. For me, this is up there with Phil Mickelson winning his first major.
Do you think it's worth Lowe's spending over $100 million a year to sponsor #48? That tiny sum provides great ROI from everything I've read. Personally, I spend all of my home improvement DIY dollars at Lowes. I've likely spent $5k there this year. I didn't even know where the Home Depot was until my contractor told me. NASCAR fans have more brand loyalty than anyone else and marketers know this. My kids wear #48 hats and shirts. My boy's room has a clock, banner, and die cast cars. Heck, even my wife has pajamas with the team colors and logo.
NASCAR fans put their money where their brand is…and in quantities that blow other forms of advertising away.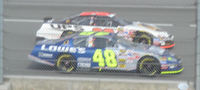 Comments
comments